Contact and privacy information
We want to hear from you. If you have a story about your dog and a particular toy they love or hate, we want to hear about it. If you have a question or a suggestion send it in using the form below.
How to contact us
We enjoy hearing from our viewers. Your comments and suggestions help improve the content of this website. You may use the form above or send an email to gbush at boneyarddogtoys dot com.
Our privacy policy
To receive our eReport, click on the book image in the righthand column. We will require your email for delivery. Your email will remain secure and private and will not be used to spam you. We will never share, trade or disclose your email to anyone else.
Advertising
We use third-party advertising companies to serve ads when you visit our website. These companies may use information (NOT including your name, address, email address, or telephone number) about your visits to this and other websites in order to provide advertisements about goods and services of interest to you. If you would like more information about this practice and to know your choices about not having this information used by these companies, please contact me at gbush at boneyarddogtoys dot com.
Affiliate relationships
Most of the dog toys and accessories discussed on this website are available through Amazon.com by following the link provided. BoneyardDogToys.com participates in the Amazon Associates affiliate program. The program is designed to provide advertizing fees from purchases made using the link provided. Amazon and the Amazon logo are trademarks of Amazon.com, Inc., or its affiliates. The fees collected from purchases using the link provided are how this website sustains itself and it also allows us to continue doing research on dog toys. In addition, a portion of the fees are donated to the dog rescue group (a 501c3) that we volunteer for in the Bay area. Without donations, this group would not be able to sustain itself.
Sign up for our FREE report.
"What Trainers Say About Using Toys During Training"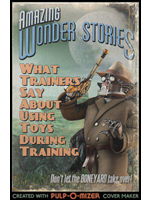 To receive a digital copy of our 15-page report, click on the eReport image above. The book covers some interesting applications of toys used by dog trainers to reinforce behaviors.
Your email address is totally secure and will only be used to send you the report.