Different types of collars and harnesses serve different purposes
The collar your dog wears everyday may be a reflection of his character and set the tone of your dog's personality. For some dogs, this could also mean the collar is an accessory that is changed on a regular basis. For others, the collar is only there to serve a purpose.
On this page, we discuss how to match the collar or harness to the purpose at hand.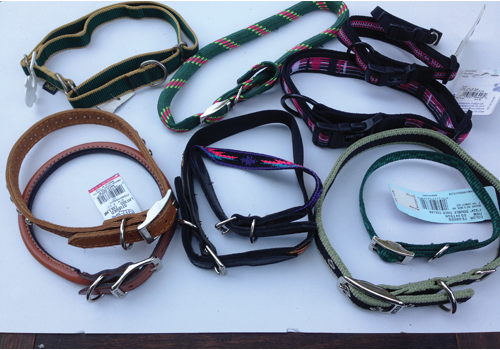 A typical selection of fixed length collars
When the collar is used as an accessory just for the fun of it, there are an endless number of options.
Collars come in every imaginable color, style and range of widths and are constructed from any number of materials. The most common fixed length collars are made of leather
or nylon web
but canvas, plastic, cotton, metal and various woven materials are also available.
Selecting the right collar for your dog
For fixed length collars, selecting a length depends on your dogs neck size and whether you expect him to continue growing. Whether you're looking at a collar that has a frame and prong buckle or a compression snap there is usually a minimum and a maximum length of adjustment. For the frame and prong collar, sizing adjustment is limited to the spacing of the holes for the prong. For compression snap collars, the sizing adjustment is continuous between the maximum and minimum adjustment of the collar. For either types of collars, its best if your dog's neck size falls somewhere in between. This gives you some latitude adjusting the length to fit just right. When properly fit, the collar should be tight enough that it can't come over the head and loose enough that your fingers slide under it.
What about dogs with necks that are larger than their head you ask. There's a collar for them too. The sight hounds like greyhounds often have heads that are so narrow the usual collar slides off. The solution is to use a Martingale collar. See the discussion below to learn more about these types of collars.
Does your dog spend a lot of time in the water? Many of the nylon web collars will dry faster than others and now there are waterproof collars for just this type of dog. The Dog Outdoors, a small Austin, Texas customer service oriented company carries a large selection of collars specifically designed for dogs that are frequently out in wet, dirty environments. Looking for less than ordinary, check out the waterproof
collars with name plate by Yellow Dog Designs, a Greensboro, North Carolina company that manufactures locally everything they sell.
Across the country, veterinarians see a surprisingly high incidence of neck injuries and choking deaths due to a dogs collar becoming entangled. The clasp of breakaway collars is designed to disengage when pulled with enough force. The compression snap is considered a breakaway clasp, but the force to disengage it may be fairly high on some. There are specially designed collars with clasps that have low thresholds for disengaging and are sold specifically as breakaway collars. If your dog is frequently left unsupervised in a location with objects that could snag a collar, this may spare their life. See our discussion below for more details on breakaway collars and why they may be useful for your dog.
When considering which collar suits your dog, its important to consider whether its just for show or do you plan to attach a leash and walk your dog. There are plenty of colorful collars out there now which add character to your dog while still being functional. Yellow Dog Design offers and extensive line of fanciful designs including collars with your own personalized message with either the standard
compression clasp or the premium metal
compression clasp. If you are planning on walking on leash, there are some additional considerations. The primary consideration is whether your dog pulls or already walks at your side, also known as loose-leash walking.
Collars and harnesses are designed to provide protection and control.
When you're ready to take your dog for a walk, you'll need a leash and a collar. The type of collar needed will depend a lot on whether your dog already walks well on a leash or is just learning. While there are a lot of fun collars on the market, many are not well suited for learning to walk on a leash. If you have a very powerful dog who pulls, a harness may be a better choice.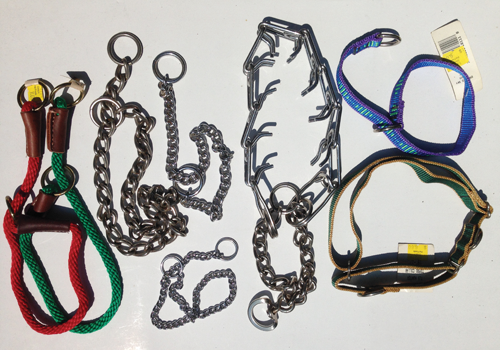 A selection of training collars
For training purposes, the types of collars to consider include slip collars, head collars, prong collars and Illusion collars. Each of these collar types can be useful during training to walk on a leash when properly used. There are advantages and disadvantages to each type.
Slip collars, also known as choke collars come in leather
, nylon cord
, nylon web
or steel chain
. These types of collars remain popular for training but are easily misused and often result in serious injury to your dog's trachea. Unfortunately, powerful dogs that pull hard on a leash are also the dogs most likely to be injured. These collars are better suited for dogs that are already trained to walk on a leash.
Prong collars, also known as pinch collars are probably the most controversial collars on the market. Opinions regarding the use of the prong collar are extremely polarized. Its probably wise to keep in mind that even the best design can be misused. Prong collars function by having the individual links rotate toward the skin surface as tension is applied. The important difference between prong collars and slip collars is that the total change in circumfrance of a prong collar is limited whereas for a slip collar its not. The prongs of the individual links are not that sharp and its unlikely during normal use that they could actually puncture the skin. The brand, Herm Sprenger
has additional features that perhaps make it a superior prong collar compared to others. There is a center plate that is positioned over the trachea for protection and the prongs are smooth compared to many other brands which have a rougher point due to the manufacturing process.
While not exactly a collar, the head collar is very effective in training a dog that pulls hard on a leash. This unique collar was originally developed by an english animal psychologist, Dr Roger Mugford and marketed as the Halti Headcollar
. Today, there are many similar brands that copy the original concept of the Halti. Comparable head collars are provided by Holt
, Pawaboo
and Dogs My Love
. The head collar fits around the head and muzzle and the leash attachment is beneath the muzzle. As the dog begins to exert pressure on the leash through pulling, the head is automatically pulled down or to the side and stops the dog from pulling. A mild pressure and release to the leash is very effective in producing a correction of the pulling behavior. Because the pulling forces act on the head rather than directly on the neck care must be taken not to jerk on the head or you may injure your dog's neck. Unfortunately, the head collar is not as effective on breeds with very short muzzles (brachiocephalic) like the boxers and bull dogs.
As mentioned above, several of the draw backs to slip collars include the potential damage they can do to the trachea and the fact that when they're positioned low on the neck they're minimally effective at controlling a powerful dog when pulling. To address these problems the Illusion collar and the Pack Leader Collar were designed to maintain the position of the built in slip lead high up on the neck. Available in small
, medium
and large
sizes.
If you spend a lot of time with your dog off leash you might want to consider an all-in-one collar. Examples of the all-in-one collars include the Release N Run
collar by Rad Dog and the Supercollar. These collars have a retractable leash incorporated into the collar. Because of the very nature of their design, these collars are not very effective for loose leash training. These collars are more effective for the dog that already walks well on a leash and has good recall behavior.
The Martingale collar is often described as being formed from two loops. A larger loop that fits over the dog's head around the neck and the smaller loop that has a D ring for attaching the leash. As tension is applied to the leash tightening the small loop, the larger loop tightens around the neck. The double loop system distinguishes the Martingale collar from a slip collar because the large loop is limited in the amount it can close. For most brands of Martingale
collars, both loops are made of either Nylon or polyester webbing material. There are some, like the Martingale collars made by Guardian Gear
in which the smaller loop is made of chain instead. Many of the Martingale collars are often provided in wide widths. The reason is the increased surface area decreases the pressure applied on the neck. The Martingale collar by Buddycollar
comes in a 2 inch width. The Martingale collars should be removed when not in use walking the dog.
The breakaway collars are designed to uncouple when enough force is applied to the collar strap. The original design comes from Keepsafe Breakaway Collars by Chinook & Co but a similar collar is also available from PetSafe
. In these collars, a specially designed clasp easily releases when the strap is pulled. A double D ring system allows the collar to be used safely for walking on a leash as well.
Breed specific collars
Not all dogs are built the same. There are a number of breeds where the fixed collar is not recommended for walking on a leash, regardless of whether your dog is leash trained. For example, greyhounds and other similar sight hounds, as well as several breed included in the bully breeds.
The sight hounds have very small heads compared to their necks. Therefore, the typical fixed collar does not work. It can easily slip over their head. For this reason, the Martingale collar works much better. Several different styles are available although the basic design is similar for each.
The brachycephalic breeds are dogs with short, compact muzzles and a flat face. These dogs can easily overheat and this becomes life threatening. Dogs regulate their temperature primarily by panting. The brachycephalic breeds don't pant well and therefore are susceptable to overheating. The typical collar only impedes panting further and can result in tracheal collapse so collars should only be used for the dogs ID tags, never for walking on a leash. For these breeds, you want to use a harness for leash walking.
Handmade collars
If you prefer a more unique or personalized collar, look no farther than any one of the many boutique dog collar sellers out there. These handmade collars add a touch of fun to your dog's accessories and support local small businesses. Below is a short list that we hope will grow with time.
In the beginning, If It Barks, a North Carolina company was started to address the unique collar requirements for dogs like greyhounds. They began specializing in Martingale collars and then later started offering all collar designs. Their collars are all handmade. What distinguishes their collars is that you can have a say in the design. The Design Your Own option lets you choose the style, color combination, size and weight of Nylon webbing and the type of hardware clasp. If you wish, the buckle can even be laser etched with your dog's name and contact info, no more tag!
Kiwi's Collars and Crafts can be found on facebook. These are handmade collars that are intended to be secure while fashionable. If you're a Broncos or Colorado Rockies fan, these collars are for you.
At The Bark Company, you'll find a slightly more refined collar style. These collars go beyond the standard nylon web and instead use 100% cotton ribbon with designs made from Nylon ribbon jaquard. The result is a durable, sustainable product that blends function with the beautiful designs inspired locally in southern Spain.
Sophisticated Pup is the creation of Michelle and inspired by her companion pug Penny. She works out of a Wicker Park studio outside of Chicago creating new designs and doing much of the sewing. The collars are constructed of cotton fabric over a nylon webbing core and come with either metal or plastic buckles. Sophisticated Pup collars stand out because of the choice of fabrics and the attention to quality construction.
All of the collars from WoofWare are handmade from home by the family in Sandy Utah. Their collars are constructed of woven ribbon stitched over a heavy nylon webbing with a plastic buckle. For a really unique collar, check out the re-cycled collars made from old bike tire tubes.
Kyra started The Mod Dog making Martingale collars for her Weimaraner. Today she makes all styles of collars. Attention to craftmanship and her selection of fabric designs distinguish her collars.
At Yellow Dog Design, a Greensboro North Carolina company, the focus is producing art worn by your dog. They use a dye sublimation / heat transfer process to print vibrantly colored collars that are eye popping. Their collar styles include metal and plastic buckles as well as a Martingale style. They even include a line of collars that are weather resistant and waterproof for dogs that spend a lot of time in or near water.
Mimi Green is based in Albuquerque New Mexico and is a big supporter of New Mexico Pug Rescue. Their collars are all handmade using sustainable products like organic cotton and soon to be released, a bamboo collar line. If leather is more your style they make leather collars in a wide assortment of colors as well as custom studding. Their line includes standard buckle style and Martingale style collars. They can also personalize the collar with embroidery and etching on the buckle.
Melly is an Austin Texas business that also specializes in Martingale collars. Every collar is handmade in Austin and for every collar sold, Melly donates a collar to a local pet rescue group (their website lists the groups they support). Take a close look at these collars. The patterns are not printed on the webbing, rather they are intricate jacquard nylon ribbon.
The Cozy Critter offers a huge selection of handmade collars produced in hundreds of vibrant fabric designs. All of their collars are made using fabric sewn over a polypropylene webbing. The collars are even triple stitched using a special thread that resists UV light. Here you can find standard buckle collars with either plastic or metal buckles and a large selection of styles including Martingale collars, limited slip collars, choke collars, break-away collars, flyball agility collars and head collars. They offer a wide range of customization and use of embroidery to make each collar unique.
No more boring collars. That's the motto of LaVilla Dog Works in Johnstown New York. They are another example of a small company trying to make quality dog collars that are fun. Their collars come in a wide range of sizes and widths and three styles. The collars are made of colorful fabric and come with either a plastic or metal buckle. A Martingale design is also available that uses a chain for the tightening loop. The collars made with a metal buckle or a Martingale style have an inner layer of polypropylene webbing for additional strength.
Loki the Wolfdog is about the journey of a husky/artic wolf/malamut mix. Kelly's mission is to make lasting memories with Loki and to inspire others to do the same. To support their mission, they offer a single design in a collar that comes in a variety of widths to match your dog's weight, a leash that's available in several lengths and a harness in a number of sizes. The design is reminescent of southwest tapistries. The sale of items on their website helps support several worthy organizations.
Leashes by Liz is another small company located in Strasburg, Colorado making leashes and collars. These are handcrafted from paracord. Each leash and collar is made of a number of strands woven together to add strength. The collars are available in a standard design with a polyproylene buckle or as a martingale design. The leashes include a standard leash or the multipurpose leash.
Looking for more? Check out handmade dog collars by the hundreds of sellers on Etsy.com
We hope to hear back from more of you regarding other sources of handmade collars and leashes.
Selecting the right harness for your dog
The use of a harness instead of a collar for walking is advised in a number of situations. Because the pulling forces are not delivered to the neck, there is less chance of a neck injury. This is important for very small dogs with very delicate necks, certain bully breeds and large powerful dogs.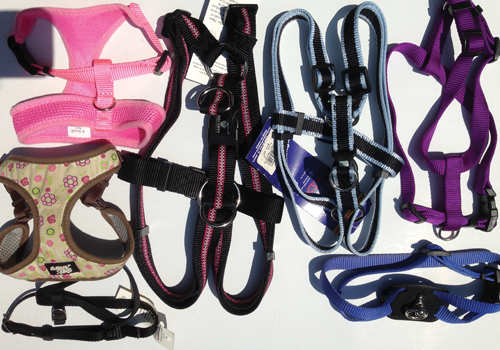 Selection of harnesses for smaller dogs
The location of the leash attachment point on the harness is critical when deciding whether you are using the harness on a dog that is already well trained to walk on a leash or just learning. Different harnesses may have leash attachment points either on the top, the sides or in front of the harness.
The harnesses depicted above all have leash attachments on top between the shoulders. These harnesses are intending for small to medium dogs where pulling power is not an issue. For very small dogs, the padded harnesses shown on the left include the Puppia Soft Dog Harness
in pink and the Pet Attire Designer Harness
in floral print. These wrap harnesses offer a little more padding for very small dogs.
Also shown are several strap harnesses by Hamilton. These adjustable harnesses by Hamilton come in a variety of webbing widths for different sized dogs. The 5/8" Harness in wine
would fit smaller dogs while the larger 3-Stripe 3/4-Inch
and the Adjustable Easy on 1-Inch
would fit respectively larger dogs. These are well made harnesses but the leash attachment is centered between the shoulders so they would only be recommended for dogs that already walk well on a leash.
If your dog is new to walking on a leash, using a harness that has a single point of attachment centered above the shoulders just gives your dog more power to pull. This is counterproductive when training your dog to walk loose-leash. Side and front attachment points are useful for dogs still learning to walk on a leash. Leash tension or a correction delivered to a side or front attachment are more effective because they offer leverage by redirecting your dog's forward motion. A word of caution, there are a lot of nice looking harnesses on the market that are sold as a "No Pull Harness" and yet the point of leash attachment is on the top between the dog's shoulders.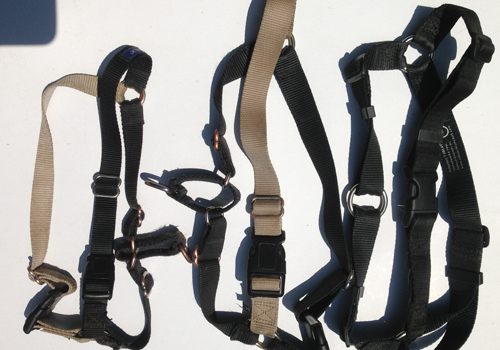 Selection of harnesses for larger dogs
The image above shows several "No Pull Harnesses". The two harnesses on the left are the medium and large Easy Walk harnesses by Petsafe. The belly strap is a complimentary color to the rest of the harness making it easy to quickly orient the harness to your dog. The D ring leash attachment is on the front chest strap and is actually incorporated into a Martingale design which results in a slight tightening of the chest and neck straps when pulled combined with the leverage of the leash attachment in the front. The Easy Walk harnesses are available in a regular nylon web
or padded nylon web
versions. The harness to the right is the SENSE-ation
harness by Softouch Concepts. Their harness also uses a front chest attachment but also includes a special smooth webbing around the belly strap.
Other "No Pull Harnesses" include the Front Range
harness by RUFFWEAR, the 3M Reflective
harness by Chai's Choice and the Ultimate Control
harness by Canine Equipment. These are all solid harnesses with two leash attachment points. For additional control, the Ultimate Control harness by Canine Equipment also incorporates a Martingale design of slip loops that tighten when the dog pulls.
Specialized harnesses for working dogs
There may come a time when you are looking for a specialized harness for pulling. It may be for competition joring or canicross, search and rescue or just for the fun of it, like pulling a cart.
Dog sledding
Dog joring is a Norwegian term for having your dog pull you along, an activity that has a long history. Today, the concept has been adapted to the many activities we enjoy such as skijoring, bikejoring, skatejoring and more. The gear needed includes a harness for the dog and a tow line to connect you to the dog. Depending on the type of joring you plan, you may need a hip belt or other gear to attach the tow line to either you or your bike. Some of the outfits that carry this type of adventure gear include Ultra Paws, RUFFWEAR, Hurtta, Canine Equipment and Nordkyn Outfitters.
RUFFWEAR provides a number of specialized harnesses for specific duties. The Web Master Secure
and Web Master Pro
harnesses are designed for search and rescue dogs. Whereas, if you're a rock climber or spend a lot of time hiking in rocky terrain and wish you could bring your 4 legged companion along check out the Doubleback harness.
Canine Equipment offers a Pulling Dog Harness
specifically designed so your dog can comfortably pull a load or for use in bikejoring or skijoring.
Sign up for our FREE report.
"What Trainers Say About Using Toys During Training"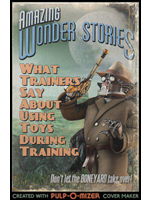 To receive a digital copy of our 15-page report, click on the eReport image above. The book covers some interesting applications of toys used by dog trainers to reinforce behaviors.
Your email address is totally secure and will only be used to send you the report.