Your Dog's Wardrobe Can Be Fun and Functional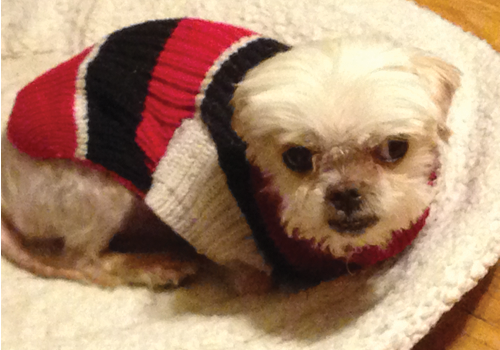 A simple knit sweater
Functional clothing for any season.
Clothing for dog's has come a long way. Whether you are looking for raingear, swimming gear or cold weather gear, your dog is no longer underdressed for the occaision.
Regardless of whether you're interested in a sweater to throw on your pup when the thermostat is set low or more serious outfits for outdoor adventures, there are plenty of options today. Also, your dog's wardrobe need not be limited to just a single sweater. Now you can provide not only a variety of wool knit sweaters but fleece lined jackets as well. And don't forget holiday wear.
Not all dogs are keen about wearing a coat. Have patience. Break them into the idea. Put it on just before going out into the cold and they may get the idea. Especially if they enjoy going for a walk anyway. The same goes for booties, most dogs will find them annoying while indoors, but as soon as you step out into snow they're totally on board. If you frequently walk after dark, many of the jackets now come with reflective trim that shows up in car lights.
The question some may ask is whether a dog needs a coat. Surely all that fur is good for something. Actually, depending on the breed and whether they have a single or double coat, dogs need the extra protection just as you do. Your dog is just as susceptable to hypothermia and frostbite as you are. Dogs loose the greatest amount of body heat from their paw pads, ears and from their mouth during respiration. Small dogs will loose body temperature faster than large dogs. Its up to you to keep an eye on them when you're out in cold, wet or snowy environments.
Remember, layering works for them too.
While much of the mass produced apparel comes from China, there are a number of brands that focus on Made in the USA or offer only products that are sourced through fair trade arrangements.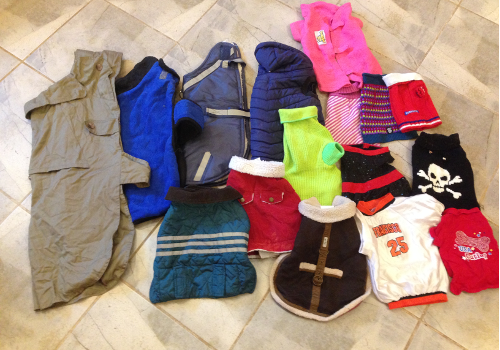 A selection of sweaters and jackets
Sweaters and jackets
Shopping for a sweater? Most of the leading pet stores will stock the simple polyester knit pullover sweaters that fit most smaller dogs. If you're looking for larger sweaters, there are some good online options like Chilly Dog Sweaters, a Philadelphia based company that offers an extensive line of hand knit wool sweaters from South America. Poochieheaven and BaxterBoo are a couple of online sources that are distributors of all types of sweaters and dog apparel.
Poochieheaven and BaxterBoo provide dog apparel from a wide variety of brands. These websites are worth checking out if you're looking for off-beat or fun apparel. Chilly Dog Sweaters is a good source for serious wool sweaters that range from Classic Argyles
to winter Snowflake
designs. And for the more self assured dogs, check out the Monkey or Shark
and Moosey
Hoodie sweaters they offer.
Typically, most brands of sweaters are designed to fit over the head with two arm holes for the front legs. These are usually easy on and off and great for when there is a chill in the air. Layer a sweater with a water-proof shell or raincoat and now your dog is prepared for more extreme weather conditions.
Fleece coats are available from RUFFWEAR
, RC Pet Products
, Chilly Dogs, Orvis
, Utra Paws
and Soima, just to mention a few of the online brands available. Fleece coats are a good option for moderate warmth but tend to do poorly if the dog is likely to be going through heavy brush. Also, a fleece coat by itself offers limited protection if its wet or raining out.
Don't forget Etsy when looking for fleece wear. There are hundreds of sellers making fleece sweaters for dogs. Some specialize in fitting the sight hounds like whippets and greyhounds. In addition, if you're looking for a less traditional pattern, style or size, Etsy will be a great source.
If your dog loves to chase snowballs, there are a number of dog apparel outfitters that have cold weather gear just for that purpose. Dog jackets range from simple fleece or non-pilling fleece lined jackets with an outer polyester or polyurethane shell all the way to a water-proof polyester shell with a fiber-fill layer and an inner fleece layer.
Chilly Dogs from Ottawa Canada, not to be confused with Chilly Dog Sweaters is a good online source for outdoor gear. Their coats are all made of non-pilling fleece. Their Trail Blazer and Great White North jackets combine an inner fleece lining with a waterproof outer shell.
The fleece lined jackets by Dog Gone Smart
have an outer layer made of their Repelz-It fabric with a zippered slot for the leash that minimizes water getting under the coat.
RUFFWEAR is a Bend, Oregan company that feels your dog deserves to be outfitted in the same type of gear you might wear going into extreme environments like backpacking, skiing or river running. RUFFWEAR carries several polyester insulated jackets with waterproof
or water resistant
outer shells.
Both Orvis
, a Vermont based company and The Duluth Trading Co, a Wisconsin based company, know something about cold weather and offer several fleece lined jackets with water resistent shells. While the Canadian company, Muttluks, carries the Belted Winter Dog Coat
that has a Nylon exterior shell, an insulation layer and finally a faux fur interior layer. Lastly, Ultra Paws, a Minnesota company, carries the Comfort Coat
that comes with a waterproof outer shell, a fiber-fill middle layer and a fleece inner layer.
If you are an outdoor enthusiest and want to include your dog in everything you do, check out The Dog Outdoors, a distributor for all sorts of outdoor gear from biking to zip lining. Well, maybe not zip lining but you get the picture. And if sourced local is important to you, many of the products they carry are Made in the USA.
Hurtta is based in Kuopio, Finland and produces a line of quality clothing gear for dog's enjoying outdoor adventures. The Summit Parka
is an example of one of their insulated parkas.
Expecting rain? Most of the brands that carry dog coats also offer a raincoat that can either be worn alone or combined with a sweater or fleece jacket. The material used and whether it comes with a hood or extra high collar are some of the differences you will find between the various brands. For example, the Sun Shower
by RUFFWEAR is a non-insulated waterproof coat made of a coated fabric and is ideal for wet, warm weather. The Rain Slicker by Chilly Dogs and the West Coast Rainwear
by RC Pets, come with a light polyester or fleece lining and a waterproof polyurethane coated outer shell. The Scout's Packable Rain Jacket by The Deluth Trading Co is made of 100% ripstop nylon fabric. While the Barbour Waxed-Cotton
jacket by Orvis is made of a cotton canvas fabric that is impregnated with wax, similar to the well known men's and women's coats made by the British company J. Barbour & Sons.
Need extreme protection from the cold? Now there are full body suits for dogs that cover not only their body but their legs as well. Muttluks provides full coverage suits that come as either a fleece, a water proof nylon shell or for the extreme cold, a Snow Suit
polyfill and nylon shell coat. While there does appear to be an opening for the tail, your dog may want to step out of the suit to relieve himself.
Another option for full body gear is the SnoJam
by Ultra Paws. Although there is a limited description of the SnoJam on their website, it comes with full leggings with cuffs, a detachable hood and appears to be made of a thick fleece material.
A good fit can be hit or miss
Dogs vary tremendously on the proportions of their size when looking at length, height and girth. A jacket design that fits great on a lab may not fit at all on a dachshund, even when scaled down for overall size. One of the most common complaints from online shoppers was that the sizing of the sweater or jacket wasn't even close. Don't guess, measure. Most of the websites give specific measurements. Chilly Dogs tries to minimize the errors by having you submit 4 different measurements plus the age, sex, weight and breed of dog. While the company states they are not making custom apparel, the submitted info is used to match as close as possible the sizing of the garment they send you. Sizing for jackets from Ultra Paws is based on three measurements and the dogs weight and they try to help guide you by arranging the sizing chart according to breed. At the other extreme, Muttluks jacket sizing is based on a single measurement, the distance from the base of the neck to the base of the tail.
The general design of most jackets is for easy on and off. Most of the garments can be fit over the head or have an adjustable neck flap that usually secures with Velcro (also known as hook-and-loop) and a belly flap that comes around under the belly. For example, these include the coats from RC Pets, Orvis, The Deluth Trading Co and Chilly Dogs. Whereas the RUFFWEAR jackets come in two different designs. The "Vest" and the "Sleeved". Their vest style coats fit over the head with autolock buckles on each side that are adjustable to your dog's girth size. The "Sleeved" jackets are different and offer a form fitting design. A zipper runs the length of the coat on the left side. When unzipped, place the dog's front legs through the "sleeves" and zip the coat together.
Outdoor accessories for hot and cold weather
If your dog suffers from overheating in the summer, there are several cooling jackets out there that may help. These jackets are great if your just hanging out at home basking in the sun, hiking a hot trail in the summer or competing in agility trials that are outside in the summer heat. The Soaker Robe by Chilly Dogs, the Dog Core Cooling Vest
by Kurgo, the Cooling Vest
by Frontpet, the Cooling Vest
and Coat
by Hurtta and the Swamp Cooler
by RUFFWEAR rely on evaporative cooling to achieve their effect. Simply soak the garment in water, ring it out and put it on your dog and you're good to go. These jackets use a belly strap and buckle design to secure the jacket on your dog. The Soaker Robe is made of a micro fiber terry cloth while the Swamp Cooler is a three layer construction designed to facilitate evaporation.
The Ultra Cool Coat
by Ultra Paws uses dehydrated ice packs that are placed in pockets in the jacket. Their website makes no mention of how long the ice packs cool the jacket.
When its hot, everyone enjoys being near the water. Many dogs love swimming and even enjoy boating with the occaisional dip to cool off. If your boating plans with your dog include white water, open water or other types of dangerous water it may be time to consider a life jacket for your dog.
Some of the popular brands that carry life vests for dogs include RUFFWEAR
, Kurgo
, Loghot
, EzyDog
, EzyDog Micro
, Outward Hound
and KONG
.
The mechanics of flotation are critical in this kind of apparel. In order to keep your dog afloat the vest must provide sufficient buoyancy. The center of gravity for different breeds may be vastly different. There are a number of different brands with slightly different designs. The different designs vary in where the buoyancy comes from and therefore how flotation is achieved. For example, most vests provide flotation under the chin to help keep the head up. Keeping the head up is also influenced by the amount of flotation provided from the back end of the vest, too much will bring the rump up forcing the head down. In a few designs, there is flotation from underneath while others provide flotation from the side or top. Each design will work differently for different breeds.
There are several things to consider when getting a vest for your dog. Unlike fitting sweaters or jackets to your dog, the life vest MUST be the right size. Its important that the vest fit your dog properly because your dog's life may depend on it. There are a number of brands and some fit certain breeds of dogs better and other breeds not so well. Check the reviews. Next, just because the vest looks like it fits well in the living room doesn't mean it will fit well supporting your dog's weight in water. Its important to give the vest a trial run where the dog takes it into the water under safe conditions. A few of the other features to look for in a life jacket include one or more handles on the top that are easy to grab and bright colors since its important that your dog be visable to others when in the water.
When you pack for play in the snow, that usually includes boots, gloves and a hat. If you like to take your dog hiking in the winter and you're likely to encounter snow, it may be time to consider boots and a hat for your dog as well. If you plan on having your dog in the snow for more than a few minutes, boots are a must. This is especially true if your dog has much hair between the toes.
Footwear for dogs has evolved significantly and as such there is a great deal of variability in the design of footwear for dogs. Doggy footwear is no longer just for snow play, there are plenty of shoes to choose from that are specifically designed for warm weather use as well, such as for hiking and rugged trail use. A few things to consider. Does your dog have short or long nails. This can affect how well some shoes fit. Also, some shoes accommodate dew claws better than others. It doesn't stop with shoes either. Now you can get socks and even boot liners to go with your shoes.
You may wonder whether your dog will tolerate footwear. Sizing and fit are key to getting a dog to at least try them out. Most of the shoes use hook and loop straps either as a pair of straps or combined with some other closure mechanism like a cinch cord or buckle. If you're headed out to play in the snow, put the shoes on just as you're headed out. With any luck your dog will appreciate the paw protection and be more accepting.
Shoe construction runs the gamut from a vinyl coated fabric sock to shoes that rival a high end runners shoe with treaded rubber soles and mesh uppers. And yes, you can even get paw wear that comes with Vibram soles in the Grip Trex
and Polar Trex
boots by Ruffwear. If recycle and reuse is your mantra, check out the Rugged Dog Boots
by Ultra Paws with Reprotek soles made from recycled tires.
Muttluks is a Canadian dog apparel company that started out producing a line of high quality boots for dogs. The Mud Monsters
for summer and the Snow Mushers
for winter are both rugged shoes with rubber treaded soles. Kurgo a northeast based company is another source that produces a sturdy all season Dog Boot
.
For comparison, Pawz
is another source for dog footwear. While customers either love them or hate them, the majority agree they're a great solution. They are disposable footwear, designed to be used a few times and then thrown away. Made of rubber, its like putting a balloon on your dog's paw. Nothing fancy; no straps, no insulation, no padding or treaded sole but they are waterproof.
Hats can be a little problematic for dogs. Some of the sweaters come with hoods and the Snojam by Ultra Paws also comes with a hood. Chilly Dogs carries a Head Muff which is made of fleece and fits around the head like a sleeve. How well it stays in position is the question.
Breed specific outdoor wear
English bulldogs and many of the bully breeds are tougher to fit so there are outfitters that cater to the stouter breed dogs. Foggy Mountain Dog Coats carries a line of coats that are styled wider in the girth and neck to accommodate bulldogs. They also have coats specific for a number of other breeds like dachshunds, great danes and sight hounds.
If your Italian greyhound spends a lot of time shivering, check out the wardrobe offered by Soima. These outfits are specially made for the lean physique of the Italian greyhound. Both fleece and wool knits are available.
Etsy is another good source for sweaters and fleece jackets made for the greyhound body type.
Outfits for any holiday occaision
Attending an ugly sweater party? Now your dog can join as well. Many of the online sources for dog sweaters carry holiday themed items around Christmas, Valentines Day, Easter, Fourth of July, Halloween and Thanksgiving.
Holiday attire
Therapy clothing
For many dogs, thunder or other loud sounds like fireworks cause excessive stress. If isolation from the sound is not possible it may be time to try out a ThunderShirt Jacket
by Thundershirt. The Thundershirt is a fabric jacket that is designed to snuggly wrap around your dog and gives them a secure feeling and minimize anxiety.
Sign up for our FREE report.
"What Trainers Say About Using Toys During Training"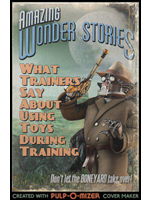 To receive a digital copy of our 15-page report, click on the eReport image above. The book covers some interesting applications of toys used by dog trainers to reinforce behaviors.
Your email address is totally secure and will only be used to send you the report.