Toys you throw help with bonding, exercise and recall
Most dogs love to run and the game of fetch is a great place to start bonding with your dog while playing a game they love.
A collection of toys designed to be thrown
Whether you're in your house, the backyard, the dog park, an open field, the shoreline or the backcountry, there is a lot to be said for the pleasure of a good game of fetch. Both you and your dog will have a lot of fun.
Depending on where you intend to play fetch, in your backyard or out in a public area, an important consideration for this type of play is that it puts your dog at risk being off leash. For more information about off leash play, see our discussion on how to safely shed the leash.
Which throwing toy is best suited for your dog?
The bottom line is almost any dog toy can be thrown and there are plenty of options for objects you can throw. Some are designed to bounce and roll a long way like tennis balls and other types of rubber balls. While others are designed to bounce eratically making the chase a little more challenging. For a full discussion on all types of balls, see our page on Balls for Dogs.
Beyond balls there are loads of other throwing toys that are made to hover in the air and stop where they land like frisbees and other flying discs. There are also any number of throwing sticks and weighted ropes to choose from.
Not all balls are created equal.
Dogs have probably chased balls for as long as they have been domesticated and the tennis ball has been the go to ball for quite some time. Most pet stores now stock balls that resemble tennis balls intended for dogs but come in a range of sizes. These types of balls are ideal for beginner fetch.
Unfortunately, not all tennis balls are created equal and tennis balls for dogs are no exception. In a landmark industry study conducted in 2009, a large number of pet toys, including tennis balls made for dogs were tested for toxic chemicals. Nearly half of the tennis balls tested were found to contain significant quantities of lead. Interestingly, none of the human tennis balls contained significant levels of lead.
This is not a good reason to use human tennis balls however. Human tennis balls were not manufactured with the intention of being chased and chewed on by dogs. The glues used to secure the outer felt cover to the inner rubber surface were not meant to be consumed. Also, the felt cover is abrasive to teeth, especially after it gets wet and becomes covered in dirt. Tennis balls meant for tennis are also manufactured to bounce and this is done by incorporating inside the ball a chemical that produces a nitrogen gas.
Don't give up just yet, there exist responsible pet toy manufacturers. Although the Air Dog Squeakair
Ball by KONG is manufactured in China it undergoes rigorous third party independent testing both abroad and again in the United States to ensure it complies with the companies policy of safe and non-toxic. Tuff Balls
by Petsport also test near lead free at 7 ppm which the company points out is under the concentration detected in most tap water.
What about the felt surface? KONG claims the felt cover on their AirDog Squeaker Ball is specially made with a non-abrasive felt. The brand Tuff Balls by Petsport also come with a nonabrasive felt covering to minimize wear on teeth.
First time playing fetch? In the beginning, its best to start out with short throws and as soon as your dog reaches the ball, command them to come with your most enthusiastic voice. Its also a good idea in the beginning to have a supply of treats ready so that when they return to you, praise them and give them a treat. Try starting off with either a tennis ball or a simple rubber ball. What's nice about a plain rubber or felt covered rubber ball is your dog will not be distracted by erratic bounces, hidden treats, squeaker sounds or flashing lights.
In this way, fetch becomes a fun way to reinforce the command "come" while getting in some exercise. For more information on how fetch can be a training tool, see the discussion on the training page.
There are toy balls for the self starter as well. These balls are usually made of rubber and when sqeezed, make sounds or flash. Most will bounce erraticly too. These types of balls are ideal for dogs that readily entertain themselves. These dogs will toss the ball around and chase it on their own. The sqeaker inside will add to the fun of chewing and tossing it around. The key is that not all dogs behave this way.
If your dog is inclined to pick up toys and toss them around to entertain himself, you should include some of these in the toy basket. There are a number of leading dog toy manufacturers including Petsport, KONG, Ruffwear, Wunderball, West Paw Design, Jolly Pets, Outward Hound, Chuckit! and more that provide a wide range of balls for dogs. Or check out the Wobble Wag Giggle Ball
. Very popular with the dogs, but not very durable so this is a toy you pull out and give them to entertain themselves but then pick up when they lay down to chew it up.
While there is no doubt that chasing balls is good exercise, claims that compressing a rubber ball releases endorphins or that the non-smooth texture of a rubber ball is beneficial for oral health due to massaging the gums or cleaning the teeth, may be stretching the available evidence. It will depend largely on what your dog does when the toy is in its mouth.
If your dog loves the water, there are a number of the toy-on-a-rope designs that are ideally suited for water recovery. Examples like the Amphibious Bumper and the Dogzilla Toss N Tug both by Petmate. Major Dog also has an extensive line of tug and throw toys that are designed to float.
There are also balls that are designed for water play like the Ruff Dawg Squeaky Ball
or the Hyper Pet Chewz Dog Ball
, come in vibrant colors and some are air injected to provide maximum floatation. The Amphibious Toys
by Chuckit! are hybrid ball/water toys specifically designed for playing fetch in the water. They fit in the Chuckit! launcher and are available in the likeness of an alligator, duck diver or shark fin.
If your dog is good off leash, then a ball launcher may be a great addition to your toy collection. The Chuckit!
ball launcher was originally invented by a couple of Seattle folks, Mark Oblack and Mariel Head in 2008. Some consider it the greatest invention in dog toys. The primary advantage of using a ball launcher is the distance you can throw a ball. It also reduces the repetitive strain on your arm if you throw frequently.
Balls are not the only toys dogs love to chase when thrown.
More than balls can take to the air.
When frisbees became popular in the 1960's, people quickly realized their dog enjoyed joining in the fun. Eventually the frisbee and other saucer-like knock-offs morphed into countless variations of flying discs made specifically for dogs. Today these include solid and donut style discs, discs made of rigid plastic, flexible rubber and even rugged fabric material. Some discs are made to be folded while others will float when thrown in the water. Chuckit! makes several very different flying toys for dogs including the Zipflight
, the Flying Squirrel
, the Heliflight
, the Paraflight
and the Rugged Flyer
. MAJOR DOG offers both the MAJOR DOG Frog
and the Frog with Plush
. Both toys are made of Polyster fabric and can be thrown like frisbees. They have internal squeakers and float on water. KONG has the Flyer
which resembles the original frisbee only made of KONG rubber so its flexible. Ruffwear has the Hydro Plane Floating Disc
. West Paw Design has their Air Dash Flying Disc
made of their Zogoflex material. Even Nylabone offers a Go!Active Flying Disc
which even floats on water.
A dark side to the game of fetch.
Know your dog's limits and know the environment where you are playing.
Some dogs are good about telling you when they've had enough. Pay attention to their body language. When they start to get tired they may circle with the ball or lie down. Remember, they are doing all the work. Some dogs may be so devoted, they will continue past the physical exhaustion point. If its a hot day they may need water.
Be sure to take regular breaks and have water available. They are looking to you for leadership.
Be watchful of the environment, especially if you are off leash. In the excitement of chasing after a thrown toy, they may not be paying attention to what they are running into or through.
If you are playing fetch at the water shore, be wary of submerged hazards where you are throwing the ball. Its best to stick to dog friendly beaches. If there are waves, there could be dangerous currents. When dogs are carried away by strong currents, its often the owner that drowns trying to rescue the dog.
Sign up for our FREE report.
"What Trainers Say About Using Toys During Training"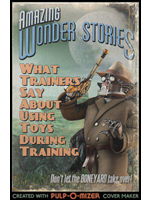 To receive a digital copy of our 15-page report, click on the eReport image above. The book covers some interesting applications of toys used by dog trainers to reinforce behaviors.
Your email address is totally secure and will only be used to send you the report.