Stuffed chew toys provide an element of discovery along with the enjoyment of eating a treat.
Enjoying a treat stuffed toy
Having a dog toy that is designed to be stuffed with various types of treats is a good toy to keep handy. These toys serve several purposes and are a good go-to toy for working on quiet time and many types of obedience training exercises.
Not all treat stuffing toys are the same and the type of treat they take can vary. So understanding which type is best suited for your dog can be a bit of trial and error. For a complete review of stuffing toys see the discussion on the Synthetic & Rubber Chews page.
Remember to adjust the amount of food you feed your dog if treat stuffed toys are a regular part of their daily diet.
Be creative but remember, there is a short list of natural foods we eat that are toxic to dogs. These include; grapes, raisins, currants, avacado, onions, garlic, chives, mushrooms, raw or green potatoes, rhubarb and the seeds and pits of fruit such as cherries, apricots, peaches, plums and persimmons.
Recipes for stuffed toys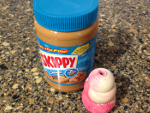 A peanut butter classic.
If your dog enjoys peanut butter, great because peanut butter is the perfect starting point for a sticky paste that can be smeared on the inside or the outside of a treat toy. If your dog is fast at getting all the peanut butter out of the toy, try freezing the toy with the peanut butter inside.
1 - 3 T peanut butter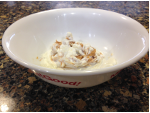 A peanut butter and yogurt blend.
Adding a little yogurt to the peanut butter adds variety. Stick with the plain, non-fruit yogurt. If your dog has been on antibiotics the yogurt cultures will help get their intestinal system back on track.
1 T peanut butter
1 T plain yogurt
Mix together equal parts of yogurt and peanut butter to make a spreadable treat.
Breakfast of champions.
The combination of yogurt and your dog's kibble adds variety. Again, if your dog has been on antibiotics the yogurt cultures will help. Use a toy that has an opening appropriate for the size kibble you are using.
1/4 c kibble
2 T plain yogurt
Thoroughly mix the yogurt with your dog's kibble. For variety, try freezing the stuffed toy. This is particularly helpful if your dog tends to inhale his food. This will slow him down.
The idea of banana and peanut butter
appealing to our dog friends seemed a bit of a stretch. The idea came from a popular biscuit treat made by Wet Noses, a Washington company that specializes in healthy treats for dogs. We put it to the test and sure enough it was a hit with our head of taste testing.
2 T banana cut into small pieces
2 T peanut butter
Thoroughly mix the banana with the peanut butter. To slow them down a bit, try freezing the stuffed toy.
Sign up for our FREE report.
"What Trainers Say About Using Toys During Training"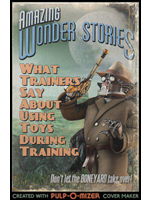 To receive a digital copy of our 15-page report, click on the eReport image above. The book covers some interesting applications of toys used by dog trainers to reinforce behaviors.
Your email address is totally secure and will only be used to send you the report.