Are the unstuffed plush toys just as popular with the dogs?
The stuffed animal has morphed into a new kind of creature. Now you have a choice between stuffed and unstuffed. The new toys promise no more mess to clean up when your dog pulls all the stuffing out.
But will your dog even want to play with the flattened fury friend?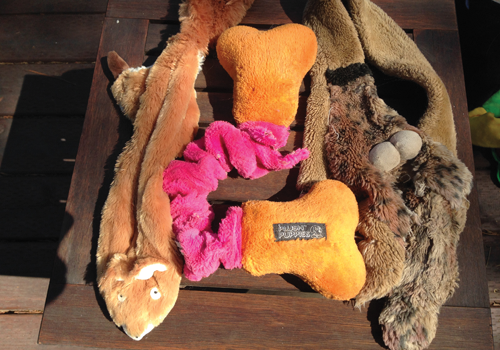 All species of unstuffed animals
To stuff or not to stuff
To be sure, the unstuffed plush toys are a different beast compared to the original stuffed animals. Most dogs enjoy the stuffed toys as something they can chew up and shred. This behavior goes right to the heart of a dog's ancestral instincts. For many, the end game is getting to and removing the squeaker.
For others, the process is more methodical, giving the toy some longevity. Chewing off a few limbs or a tail before finally gutting the toy to reach the squeaker.
While most dogs seem to still take interest in the unstuffed toys, they do play with them differently. Most of the unstuffed toys still contain one or more squeakers so this certainly entices the chewing instinct. Most dogs still chew on these and will remove the squeaker in short order. But by most reports, the unstuffed variety now take on additional roles as toys for fetch or tug.
Many dogs are disinterested in playing fetch with a ball. If this describes your dog, try throwing one of the many unstuffed toys available and see if that is more stimulating. After all, the game of fetch is an ideal time to work on the recall command.
The unstuffed products are available in about every imaginable animal likeness. As you will also discover, not all unstuffed toys are created equal. By shedding the stuffing, the toys have been reinvented.
Whereas the first iteration of unstuffed was just a plush animal toy without stuffing, today's unstuffed animals may have a knotted rope secured inside or appendages made of rope, one or more squeakers, elastic stretch from internal rubber bands or bungee cords, a braided plush body and more. Many are designed to be more durable to hold up to light chewing.
But be realistic, the longevity of these types of toys, just like their stuffed cousins will be limited and will depend a great deal on the chewing style of your dog. Dogs take great pleasure in chewing on these toys and they are relatively safe for most dogs. Keep a few on hand, one in the toy basket and a couple in reserve.
Welcome to animal farm
The following is meant to be a general overview of some of the more popular brands available. What they share in common is they all represent unstuffed or minimally stuffed plush toys for dogs, but there are plenty of differences as well.
The Skinneeez unstuffed animals by Ethical Products have been around for awhile. The Skinneeez
line includes dozens of different animals in several sizes. A recent addition to the line includes the Skinneeez Bungee
animals that contain a bungee cord sewn inside. This gives the animal a stretchy action when tugged on. Most of the Skinneeez animals come with two squeakers sewn in for more enticing play.
If your dog is more of a power chewer, try their Skinneeez Extreme
line of unstuffed animals. These toys are constructed with a rip stop mesh lining reinforced with two or more layers for extra durability. To top it off, if your dog manages to destroy a Skinneeez Extreme, they have a one time money back guarantee. Not a bad way to find out whether this toy works for your dog or its time to move on.
The Crinklers
are Skinneeez critters that make a crinkling sound when chewed as well as containing a squeaker.
Ethical Products lists Asia as the point of manufacturing and states they maintain their own quality control staff at the point of manufacturing.
If the company behind the product is important to you, check out the Floppy Animals by West Paw Design. The company is committed to environmentally preferable products and all of their products are handcrafted in the USA. Their facility is located in Bozeman, Montana.
While its not clear where the fabric used for the Floppy Animals is sourced, they state on their company's Environmental Statement that they will always purchase products and services locally. Of note, the fabric and stuffing used for their line of stuffed animals are made from their own exclusive eco-fiber called Intelliloft which is made from recycled plastic bottles and is certified non-toxic.
There are four different Floppy Animals including Giraffe
, Quack
, Dog and Mingo. Each come in two sizes and have two squeakers sewn inside. Unless your dog is one to cuddle with its plush toy, expect these to be chewed up quickly.
Kong offers a large selection of plush toys in its Knots and Stretchezz lines of minimally stuffed, so technically not unstuffed toys. The heads of the animals are still stuffed.
Although most of the KONG toys are manufactured in the USA, its entire line of Plush toys are manufactured in China. However, the company states that all toys manufactured abroad undergo thorough testing by independent laboratories and once they arrive in the United States are again subjected to rigorous quality control procedures.
The Knots animals incorporate knotted rope either internal to the plush fabric as in the Scrunch Knots
, Cross Knots
and Aqua Knots
or externally in the form of knots for appendages as in the Barnyard Knots
or as a knotted ball for the Weave Knots
.
These toys are ideal for tossing in a game of fetch or for playing tug. By incorporating a knotted rope into the plush toy, Kong has made a more durable, chewier toy. All of the Knots animals have squeakers inside as well.
Kong also offers a line of stretchable unstuffed toys in their line known as the Stretchezz animals. Not only do these toys stretch, but they crinkle and squeak for added excitement. The squeak no less is activated by stretching. The Monkey
, Hedgehog
, Pig
and Frog
are available in two sizes and constructed of a durable fabric. The jumbo size animals include the Snow Leopard, Tiger and Lion
and are constructed of a plush fabric.
The Grriggles Unstuffies by PetEdge offer several types of plush unstuffed animals. The Life-like Unstuffies are intended to resemble real wild animals. They are available as a Badger, Mongoose and Opossum
and all contain two squeakers. On the other hand, if less life-like is more your speed, check out the Farm Friend Unstuffies. These are available as Cow, Pig and Rabbit
or if water critters are more to your liking try Frog
, Lobster, Eel and Alligator
.
If you tend to the darker side of humor, check out the line of Road Crew Badger
and Gopher
unstuffies. These flattened furry friends come complete with tire tread marks.
Another line of toys manufactured exclusively for PetEdge are the Zanies dog toys. The Zanies Bungies Gecko
line of dog toys are the unstuffed variety. These toys come with a bungee cord sewn inside and squeakers in the head and tail. The bungee cord enables the toy to be stretched during tug play.
Although there is limited product information available for the unstuffed plush toys by PetEdge, it appears that these toys are all manufactured oversees in China. PetEdge has its headquarters in Massachusetts and operates as a wholesale manufacturer and distributor of pet products for independent retailers.
The Invincibles by Outward Hound are a line of unstuffed toys that strive to be a bit more durable. They use a multi-layer construction with a Dura-Tuff inner lining and an outer layer made of a tough fabric. The seams are also double layered and reinforced.
And it doesn't stop there. Even the squeaker is designed with the tough chewer in mind. The squeaker continues squeaking even after it has been punctured.
The Invincibles are available in a line of small animals which include the Dog, Duck, Pig and Hedgehog. For larger toys, try either their Gecko
or Snake
. If you have a smaller dog, try their mini Farm Animals
. For each of these, you have a choice between their double layered reinforced seams or the extra Tough Seamz that are double layered and double stitched.
Outward Hound is Colorado based and another one of the small companies that focuses on bringing innovative dog toys to market. While all of their manufacturing is done in China, they are committed to safety. They claim that all new toys are tested with their own dogs to ensure they are safe and they use third party independent testing laboratories to certify their toys are free of BPA, PVC and phthalates.
ZippyPaws is a small pet products company that has only been around since 2011. However, they are committed to producing quality pet toys and gear. Their toy manufacturing has remained focused on the plush toys and they even have gone so far as to improve on the design of squeakers. With an eye toward design, they offer unstuffed toys with the mild and tough chewers in mind.
With nearly 100 different unstuffed toys to choose from, they have a squeakie toy for almost any dog. The Skinny Peltz
Skinny Peltz include a selection of familar critters in an unstuffed plush toy with a squeaker.
If your dog is rough on plush toys, try one of the toys from their Z-Stitch line like the Snake
or the Z-Stitch Warriorz
figures. These toys are fabricated for the power chewer. They are constructed with multiple layers of a more durable fabric. Even the seam is reinforced with webbing material and sewn with their own trademark zig-zag stitch for extra strength. These toys also come with ZippyPaws' own Blaster squeaker. This squeaker is larger, produces a louder squeak and is more durable than the typical squeaker.
If your dog is into shaking his toys, the Jigglerz regular
and Jigglerz junior
toys may be a great choice. Their specially designed squeaker makes a noise when shaken from side to side.
The Squeakie Pup
line brings us a pack of unstuffed toys made in the likeness of many common breeds of dogs. With 10 squeakers and 1 Blaster squeaker inside these toys, your dog will never miss an opportunity to squeak this toy.
Or maybe your dog is one of the many that enjoys the scrunching sound of plastic water bottles. If so, then try out the Crusherz
line of toys. With an appropriate cast of Shark, Dolphin, Lobster and Whale, these toys are constructed with multiple layers of reinforced fabric. The outer layer is a plush fabric with a soft nubbly surface texture and includes an empty water bottle. These toys are aimed at the less aggressive chewers.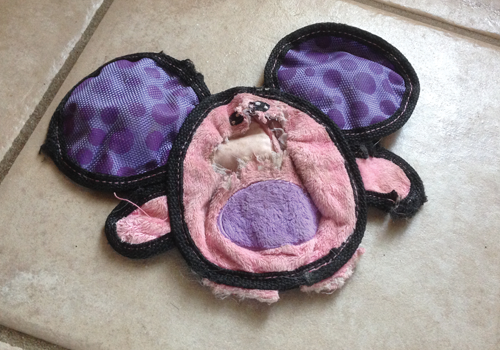 Even when they are all chewed up, these are still a go-to toy
At what point do you toss the toy? Some will attempt to stitch the toy back up while for others, the first sign of destruction is an end to the toy. What is clear is that even when all the limbs have been removed, many dogs are quite happy to continue playing with the toy long after. With a little supervision, cut off pieces that might be swallowed, these toys can be thrown in the washer and continue to serve as a chew toy for a long time.
Sign up for our FREE report.
"What Trainers Say About Using Toys During Training"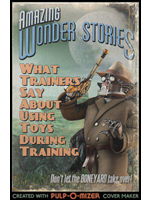 To receive a digital copy of our 15-page report, click on the eReport image above. The book covers some interesting applications of toys used by dog trainers to reinforce behaviors.
Your email address is totally secure and will only be used to send you the report.