With so many toy balls available, which ball is right for your dog?
Does your dog really need this variety? Maybe, but how do you choose? Most dogs enjoy chasing a ball and some even bring it back. Are some balls better than others? The answer is a qualified yes.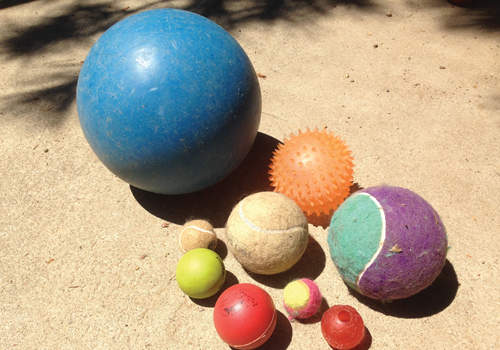 The many varieties of balls available
So many ball toys, how are they similar and how do they differ?
Something else to think about is whether you want the ball to bounce and roll a long way before stopping or more or less just come to a stop when it hits the ground. Is there a limited distance you can throw a ball in your back yard before it disappears into the hedgerow? Can the ball bounce over the fence or maybe roll through it or under it at the dog park?
Now there are a large variety of modified tennis balls that come attached to a piece of rope. They are easy to throw and the ball fits in your dog's mouth just like a tennis ball. But when you throw them they don't keep going forever once they hit the ground. For additional information on this type of toy, see our discussion of Throwing Toys.
The image above shows a typical sampling of the many types of balls available. A good plan is to include at least a couple different balls in your dog's toy basket. If they get the urge to play fetch, they'll learn to pull one from the basket.
While balls for dogs are made from a variety of materials, certainly the most recognizable ball is the common tennis ball.
As mentioned in our discussion of Throwing Toys, a study done in 2009 looked at the presence of toxic chemicals in a wide variety of dog toys. Fortunately, this study focused attention on the finding that many dog toys, including nearly half of the tennis balls tested for dogs, contained dangerous levels of lead and other toxic chemicals. The interesting comparison was that the levels of lead or other toxins were much higher in tennis balls for dogs compared to tennis balls for humans.
Unfortunately, human tennis balls are not a good option for dogs. The felt cover is manufactured to be tough and fluffy which makes it abrasive to teeth. The glue used to bind the felt cover to the ball is not meant for consumption and the chemicals used to make the ball bounce better by producing nitrogen gas inside the ball are not safe for consumption either. While we may not consider a tennis ball a chew toy, many dogs will when its not being thrown.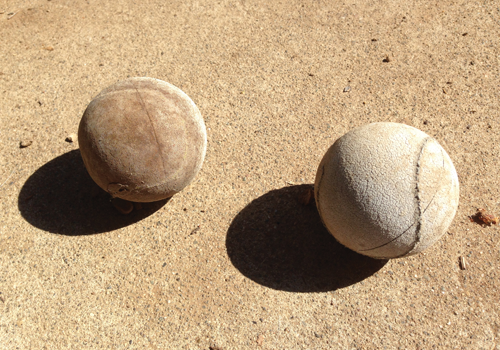 Tennis balls with their felt covers chewed off
The good news is there are safe brands of felt covered balls for dogs available. KONG is a Golden, Colorado based company that has long strived to produce safe quality toys for dogs. The KONG Air Dog line provides a variety of toy shapes including balls that are toxin free and abrasive free. The Air Dog Squeaker balls come in X-Large
, Large
, Medium
, Small, 3-Pack
and the X-Small, 3-Pack
sizes. For special occaisions, like birthdays, check out the Squeakair Birthday Balls
by KONG.
Petsport is another pet toy company well known for their Tuff Ball brand. They are a San Francisco based company that has been around for over 20 years and believes its just as important that their products be safe for kids as they are for the pets. Their tennis balls are non-toxic and abrasive free and come in a variety of sizes, including the 4-Inch
or large, the 2.5-Inch
or medium and the 1.8-Inch
or small.
Beyond felt covered tennis ball type, there are plenty of options. Synthetic plastic and rubber balls have the advantage that they can be formed into many shapes. This can be used to provide additional attributes to a ball such as making it bounce erratically, giving it surface texture or nubs and crevices, and even making it recyclable.
West Paw Design from Bozeman, Montana uses a proprietry plastic blend they call Zogoflex. Their material can be blended to produce a very durable but pliable synthetic rubber that is non-toxic, bouncy, dishwasher safe and 100% recyclable. The Jive Dog Balls
are durable enough for destructive chewers and when thrown they bounce erratically. Another nice feature is that because the material is injected with tiny air bubbles they float high in the water. The Jive Ball comes in three sizes, and three bright colors plus black. West Paw Design also makes the Boz Dog Ball which is a softer, squishier ball that's not quite as durable as the Jive dog ball but is also non-toxic, dishwasher safe and 100% recyclable. It comes in two ball sizes, Large 4-Inch
and Small 2.5-Inch
and three bright colors.
The Chuckit! ball is a very popular ball and launcher system. This is a great combo for the dog that's comfortable being off leash or at a dog park. The launcher gives one the ability to hurl the ball quite a distance with little effort. The Ultra Ball that's made for the Chuckit! launcher is a solid natural rubber ball and made to have extra bounce. They also float so fetch in the water is possible.
The Chuckit! balls come in a variety of sizes that include XX-Large 4-Inch
, X-Large 3.5-Inch
, Large 3-Inch
, Medium 2.5-Inch, 2-pack
and Small 2-Inch, 2-Pack
. The launchers are made to suit specific ball sizes. In addition, the ball launchers come in three lengths, Sport
, Pro
and Ultra Grip
, the longer the length the farther the ball travels. Unless you're sure your dog needs a ball that is larger or smaller than a regular tennis ball, the best place to start is with the Chuckit! Classic
. This includes a medium size felt covered Chuckit! ball and the original 26 inch Chuckit! launcher. The advantage to using the launcher for the medium sized balls is that most standard tennis balls and other 2.5 inch balls also fit this launcher.
Chuckit! also provides a line of feature added balls to add interest to the ball. Try the Whistler
, the Squeaker
or the Erratic
balls for a little variety. The Whistler makes a whistling sound as it flies through the air while the Squeaker ball squeaks when squeezed in the dogs mouth. The Erratic bounces erratically when it comes down.
The Gnawsome brand of pet toys by Royal Pet is another place to look where you will find an interesting selection of rubber balls to choose from. Dog owners generally agree the rubber balls are rugged and the squeaker is difficult to get out. If chewing up the ball is a concern, put it away between games of fetch so its not treated like a chew toy. When its time for fetch pull out the ball. These balls are available as the Squeaker Ball
, the Chatter Ball
and the Squeak and Light Ball
.
Another option for a hard durable rubber ball is the KONG Extreme Ball
. The ball is made of the same rubber that KONG is known for and the ball comes with a hole for stuffing. If your dog is new to the game of fetch, make the ball a little more interesting by stuffing it before throwing it.
Planet Dog carries several lines of rubber balls, their original Orbee-Tuff Ball
and another that is fashioned after various sports such as baseball
, soccer
, football
, etc. All of their toys are rated for durability so if you have a good idea of how aggressive a chewer your dog can be, match the durability rating accordingly.
Aduck (an Amazon storefront) produces a line of natural rubber balls that offer a vaiety of surface textures and shapes that make them ideal for chewing. These balls get great reviews for their durability considering they are rubber and have lots of nubs and pieces that could be chewed off. Whether they also qualify for IQ training may be stretching it. Most of their balls are also slightly larger than a regular tennis ball. A few examples include the Bouncy Rubber Ball for Aggressive Chewers
, the Squeaky Meteorites Series
and the Durable Puppy Ball
.
As an alternative to the rubber ball, try the Marble Fabric Ball by Major Dog from Sonneberg, Germany which interestingly is a region well known for toy making. The ball is made of a durable Polyester fabric and is designed to float and fit in most ball launchers.
Do toy balls for dogs stand up to their many health claims?
There is no argument, a good game of fetch is a lot of exercise. But beyond providing good exercise, which health claims stand up and which are far fetched?
Fetch is a great way to give your dog a lot of exercise. But fetch is also interactive and helps build the bonds between you. If your dog is particularly focused on you when you play fetch this is a prime opportunity to practice some commands. Learning is greatly enhanced when they are in a focused state of mind. The recall command is easily practiced during fetch. As soon as your dog picks up the ball, use your recall command and show excitment when they return to you followed with plenty of praise.
Sign up for our FREE report.
"What Trainers Say About Using Toys During Training"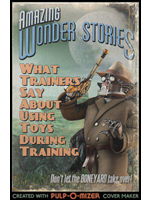 To receive a digital copy of our 15-page report, click on the eReport image above. The book covers some interesting applications of toys used by dog trainers to reinforce behaviors.
Your email address is totally secure and will only be used to send you the report.